Kelle Contine
RID, IIDA, LEED AP
Owner | Principal Designer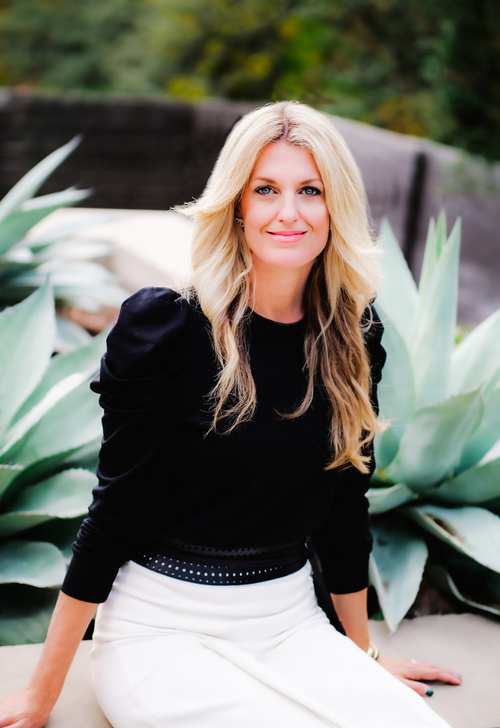 Kelle Contine
RID, IIDA, LEED AP
Owner | Principal Designer
Kelle is an accomplished Registered Interior Designer with over 20 years of professional design experience. Her eye for excellence and positive design approach is widely respected across the industry in Austin. She collaborates closely with clients and offers unique ideas and innovative solutions to the creative process. Her enthusiasm for design is marked by attention to detail, which elevates and sophisticates her finished work.

Along with managing projects, Kelle oversees operations and new business at kc|ID. She is proud of the talented team she has assembled and is continually humbled by their expertise and passion. Prior to founding kc|ID, Kelle spent ten years working at PPDS [design + interiors] where she served as Lead Designer and Division Director of Interiors. She graduated from Louisiana State University with a Bachelor of Science in Interior Design and was recognized as LSU's most outstanding senior in the College of Design.
Certifications
NCIDQ #164396, 2003 (National Council for Interior Design Qualification)
LEED AP, 2009 (Leadership in Energy and Environmental Design)
Registration
Registered Interior Designer, Texas No. 10224, 2003
Membership
International Interior Design Association
Erin Judge
RID, IIDA, LEED Green Assoc.

Studio Director | Senior Designer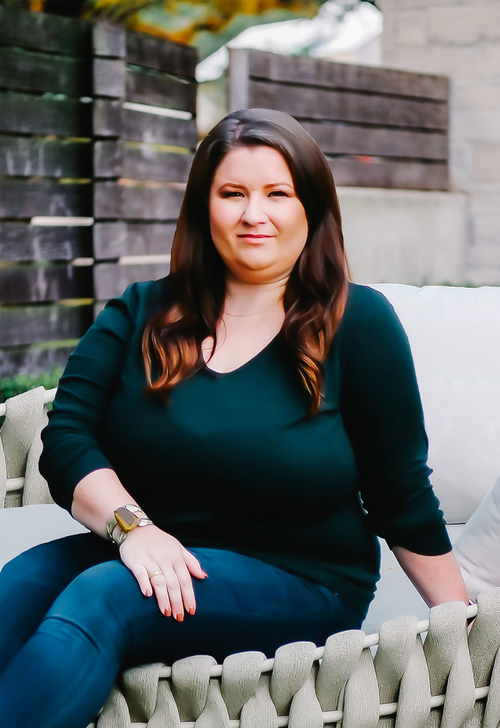 Erin Judge
RID, IIDA, LEED Green Assoc.

Studio Director | Senior Designer
With a Bachelor of Science in Interior Design and Business Foundations Certification from the University of Texas, Erin has called Austin home for over 15 years. She has grown with kc|ID since the firm opened its doors in 2011, initially as a Junior Designer and now holding the dual roles of Studio Director and Senior Designer. As a long-standing member of the IIDA Texas-Oklahoma Chapter, Erin has held LEED Green Associate status since 2013 and became a Registered Interior Designer in 2014. Her expansive experience with kc|ID encompasses managing projects of all types, sizes and styles, as well as leading the studio in our operational and internal business endeavors.
To achieve a design that is both functional and beautiful, Erin approaches every project with thoughtful research, ingenuity, and a focus on collaboration. As Senior Designer, Erin enjoys being involved in all aspects of the design process and project management from conception to completion, creating unique and meaningful spaces for her clients. As Studio Director, Erin oversees the design office while emphasizing a positive and proactive company culture. She is a multi-disciplined leader with depth of experience and pragmatic skills that help to ensure the operational success of the studio. When she is not working, Erin enjoys exploring the constantly growing Austin community, traveling to inspiring destinations, rooting for her Longhorns, and spending time with her family and friends.
Certifications
NCIDQ #30274, 2014 (National Council for Interior Design Qualification)
LEED Green Associate, 2013 (Leadership in Energy and Environmental Design)
Registration
Registered Interior Designer, Texas No. 11516, 2014
Memberships
International Interior Design Association
Nicki Pérez-Cerday
RID, IIDA, ASID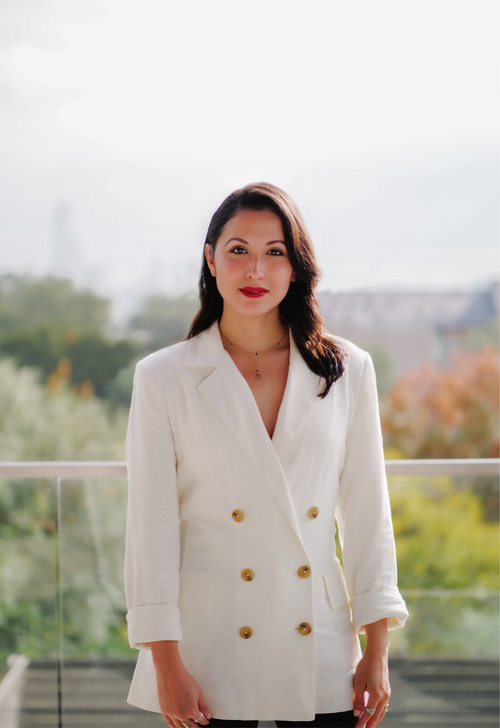 Nicki Pérez-Cerday
RID, IIDA, ASID

Creative Director | Senior Designer
Nicki has been leading projects at kc|ID since 2012 and has collaborated closely with builders, architects, developers, and owners on a broad range of projects managing all stages of the design process from programming through construction and installation. She received her Bachelor of Science in Interior Design with a Business Minor from Texas State University before gaining professional experience at firms in Los Angeles and Austin, where she focused on high-end residential and hospitality projects. In 2016, Nicki became a Registered Interior Designer and serves as a professional member of the American Society of Interior Designers and International Interior Design Association - Texas Chapters.
With exceptional attention to detail and a commitment to high standards of excellence, Nicki continually raises the bar to create interiors that are innovative and original, and believes projects rooted in collaboration lead to a more successful outcome. Her love of beauty and innate sense of style is apparent in every finished project. With dual roles of Senior Designer and Creative Director, Nicki is a talented leader who also oversees all creative output at kc|ID including marketing and branding initiatives, always aiming to lead authentically and motivate her team to produce creative and thoughtful work to shape and strengthen brand standards.
With inspiration drawn from art, architecture, music, travel, food and fashion, Nicki has found the passion for creative expression to be the core of who she is. When not in the studio, she enjoys exploring and learning from the world around her, always remaining curious, and applying her experiences to her work and everyday life.
Certifications
NCIDQ #31964, 2016 (National Council for Interior Design Qualification)
Registration
Registered Interior Designer, Texas No. 11758, 2016
Memberships
International Interior Design Association
American Society of Interior Designers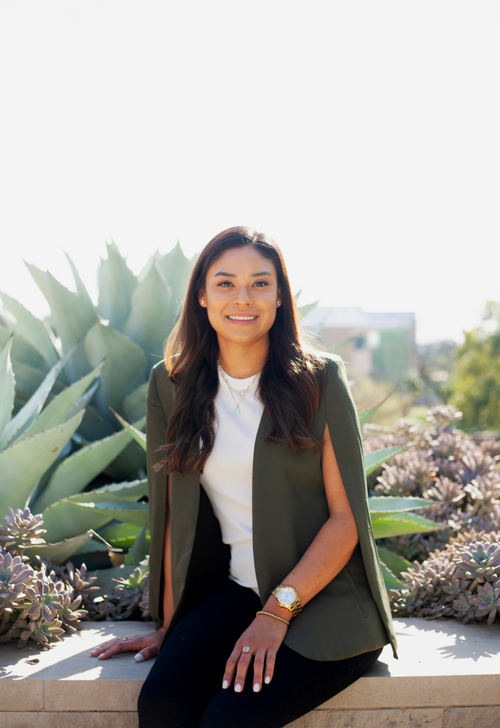 Kemberly Reyes
Project Designer
Kemberly joined kc|ID as a Project Designer in 2021 bringing with her 6 years of experience in student housing and high-end mixed-use projects as an in-house designer for Alpha Gamma Delta Sorority Housing Corporation. Throughout her time there, she designed high capital sorority homes across the U.S. that ranged from new construction developments to large scale renovations.
While completing a Bachelor of Science degree in Interior Design from Indiana University, Kemberly worked as a design intern at Studio Siart- an architecture firm based in Barcelona, Spain. After graduating, she then moved to Melbourne, Australia where she served as a Junior Designer for PDM International- a leading Asia Pacific Interior Design Firm.
Kemberly prides herself on her ability to collaborate in groups large and small, as well as explore ideas that shift perspective and add an element of excitement. As an avid traveler, her primary inspiration comes from the places she's visited, and she is constantly seeking to apply her findings to her work for a fresh and personalized approach to every project. Beyond traveling the world, Kem loves experiencing new cuisines with her partner Austin. Together, they enjoy exploring all the wonders of this exciting city with her puppers Cooper by their side.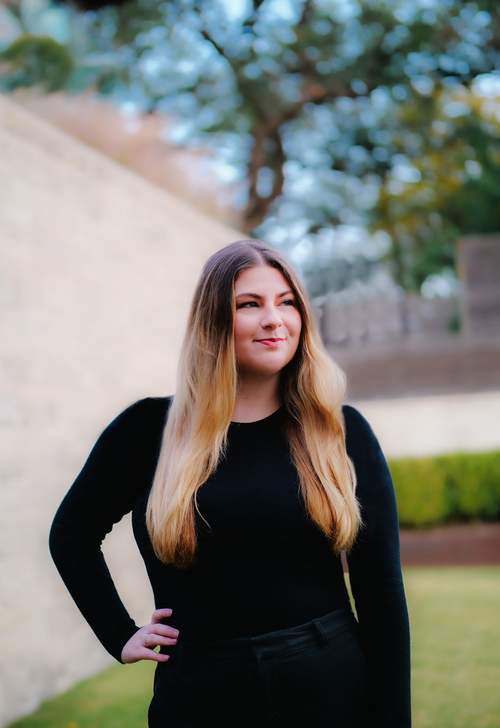 Lauren Fricke
Junior Designer
Lauren graduated with honors from the University of Louisiana at Lafayette, where she obtained a Bachelor of Arts in Interior Design. While in school, Lauren was selected for the Design Excellence award as a top student in her class and was recognized by her professors and peers for exemplary performance. After interning at a commercial furniture dealer in her home state of Louisiana, Lauren decided to take the next step with her career and make the move to Texas to immerse herself in the thriving Austin design community.
A New Orleans native, Lauren feels the most creative when she is connected to her natural surroundings. Believing that everyone deserves good design, Lauren loves constantly challenging herself to approach things in a new and innovative way. As a Junior Designer, Lauren plays a significant role in the team's overall success by providing hands-on support in all phases of the design process and hopes to continue building her knowledge and experience to one day become a licensed interior designer.
In her free time, you can find Lauren carefully tending to her 'plant babies', volunteering in the local community, or adventuring the outdoors and restaurant scene. In moments of calm, she takes pleasure in practicing yoga and meditation, strolling through Zilker Park, or immersing herself in a captivating book at a nearby coffee shop or waterfront spot.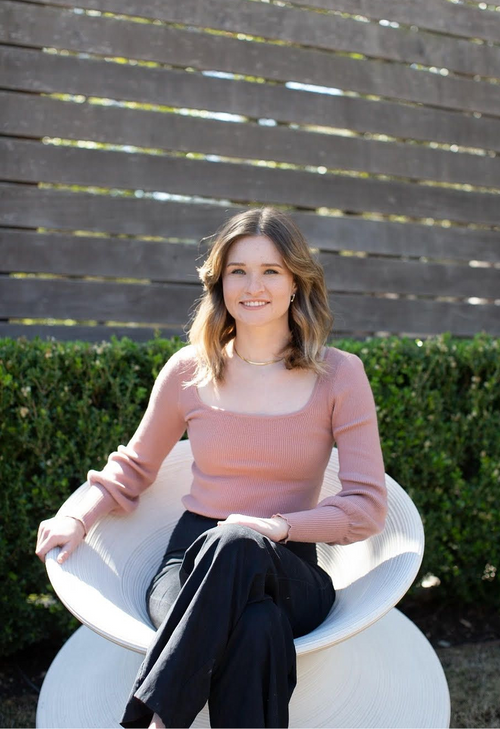 Mackenzie Lewis
Design Assistant | Studio Coordinator
A Texas native, Mackenzie received her education from Texas A&M University in 2019 where she obtained a Bachelor of Environmental Design/Architecture Studies and a minor in Communications. Prior to graduating, she had the opportunity to spend a semester of her senior year studying abroad in Italy and gained a newfound appreciation for the timeless nature of undeniably great design. Upon graduating, she moved to Austin for the opportunity to begin a career surrounded by like-minded design enthusiasts in a vibrant and flourishing city.
After gaining technical architectural experience at a technology-focused design firm, she decided to hone-in on her long-time passion for interiors and creating functional spaces that double as aesthetically pleasing works of art. At kc|ID, she serves as the direct assistant to Senior Designer, Erin Judge, providing support throughout all phases of the design process, always approaching every task with efficiency, organization, and a positive attitude.
In her off time, Mackenzie enjoys the total Austin experience- from frequenting Zilker Park with her dog, to catching her favorite bands in concert. She thrives in the culture of the city and its focus on nature and the surrounding environment.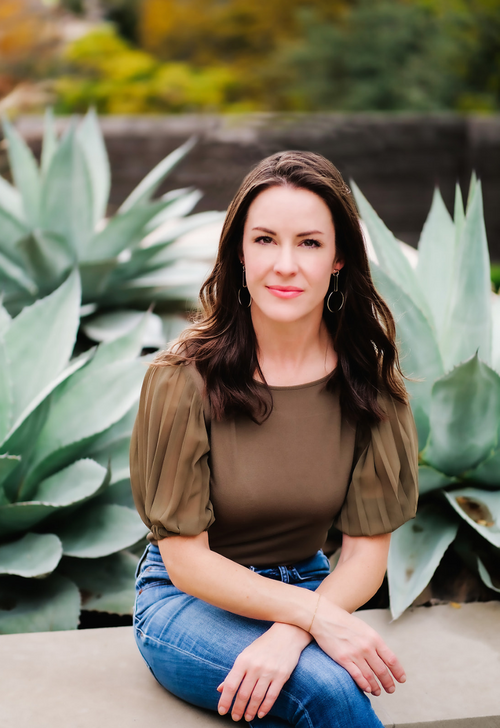 Elizabeth Billingsley
Design Assistant | Studio Coordinator
Elizabeth's interest in interior design started very early in life. She grew up in the Austin area around her grandfather who was a builder, and her grandmother who owned an interior decorating business. She graduated from Abilene Christian University with an interior design degree in 2007 and spent the next four years working in the interior design industry in Austin.
Elizabeth then returned to her alma mater to work in University Events for six years, after which she ran her own garment design company. After successfully selling her business, Elizabeth took a month-long break from the busy working lifestyle to travel independently throughout England to gain perspective and inspiration. It was upon her time abroad that she decided to return to her first two loves: Austin and interior design.
Thrilled to work with such a prestigious design studio as kc|ID, Elizabeth hopes to expand upon her design knowledge and immerse herself in the creative opportunities as the direct Design Assistant to Principal, Kelle Contine.
When Elizabeth is not working, she is traveling, dancing, reading, making new friends, and engaging in exciting new experiences.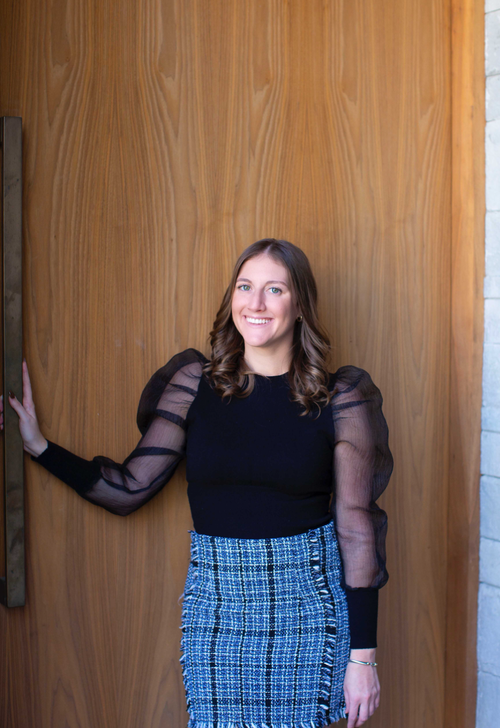 Hannah Jacobs
Marketing Coordinator
Hannah is a born and bred New Yorker but has spent the past 7 years in Austin after attending the University of Texas and has planted her roots here firmly. With a background in Corporate Communications and Psychology, Hannah's professional journey has been focused on Client Services and Marketing and brings with her years of experience working closely with a diverse range of people, problem solving, and developing marketing strategy. As Marketing Coordinator, Hannah manages kc|ID's social media platforms, maintains the company website/online presence, serves as the liaison for publications, manages digital and print marketing, and plans all kc|ID events. She brings savviness and passion to her work and enjoys working in a creative design-oriented environment.
Even in her spare time, Hannah can likely be found on Instagram running her passion project foodie account or indulging in one of the many new restaurant hot spots Austin has to offer. Nothing is more relaxing to her than curling up on the sofa with her English Cream Golden Retriever, Louie, and watching episodes of The Real Housewives.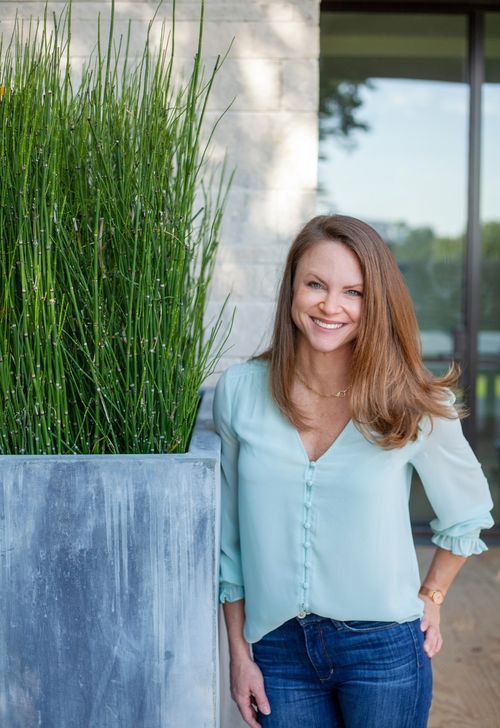 Joanna Ward
Procurement Manager
As kc|ID's Procurement Manager, Joanna is the team organizational powerhouse. A self-proclaimed numbers geek and spreadsheet junkie, Joanna takes great pleasure in managing the practical ins and outs of design procurement, though is most inspired by the creative energy and ingenuity of the kc|ID team as a whole. "I am consistently in awe of the ways in which a meticulously designed space can reflect a client's unique personality and lifestyle. I love being a part of that process."
A seasoned Project Manager with an artistic flair, Joanna recently discovered her place in the design industry and hasn't looked back. With a degree from the University of Texas and as a native to the city, her passion for all things "Austin" is palpable. Running through the Greenbelt, watching football, or relishing in the booming food scene are just a few of Joanna's favorite downtime activities. Dance parties at home with her two kids Sage and Vince however, easily tops the list of ideal pastimes.
Summer Day-Eissler
Purchasing Coordinator
Summer Day-Eissler
Purchasing Coordinator
Summer was born in southern California, but spent her formative years in the Rocky Mountains of Northwest Montana. She obtained a Bachelor of Arts in Communication from the University of the Pacific, and is driven by client and colleague relations alike. She was drawn to kc|ID by "the beautiful balance between creativity and structure" and brings her extensive background in event planning. As the Purchasing Coordinator at kc|ID, Summer plays a significant role in our Procurement team's success, assisting with vendor communication, furniture, art & accessory coordination, all with a keen attention to detail.
Summer and her husband now call Austin, Texas their home where you can find them exploring the city's many green spaces, ordering takeout from any of the amazing restaurants in the area, or managing their brood of rescue animals.